Scrolling through your social media platforms, if you can't see Kylie or someone talking about Kylie who are you?
Kylie. NUMBER 8 most followed Instagrammer. The MOST followed person on Snapchat.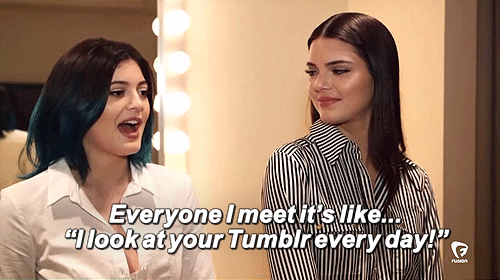 Why wouldn't YOU want to follow Kylie?
Don't you want a big car? Endless free clothes? Jetting off to different cities every other day? #lipgoals? Who wouldn't want to have a life like Kylie Jenner?
She has built a personal brand that even the biggest Kardashian hater (here's looking at you…) would be impressed with. The Kylie brand (of course in conjunction with the Kardashian brand) has shaped the image of a generation. Her brand message capitalises on her unique image of excessive makeup (in an era of 'no makeup makeup') and bold clothing choices to tell her cult-like excessively loyal audience of young women that this lifestyle is all attainable (while simultaneously promoting her own products into 'kyliecosmetics' and the Kendall and Kylie 'lifestyle' clothing brand). 
But how was this brand message created and how is it maintained? Social media of course!
---
---
Across the different social media platforms, Kylie tells a well-rounded, cohesive and ultimately aspirational brand message:
Snapchat: Everyday, personal, relatable. She seems to truly let her audiences inside her life. Her friends and family are fundamental to her Snapchat. She puts up seemingly real memories that mirror how most 20-year-olds (ourselves included) show our lives i.e. drinking, partying and having fun. She becomes a point of reference for us. She uses Snapchat to establish an element authenticity to her brand message that she, deep deep deep down behind all the glitz and glamour, is just like me and you…
Instagram: Photos of her cute friendships, the breathtaking scenery and luxury lifestyle she lives are created continuously. Updated multiple times a day, she posts idealistic images that we can aspire to and only dream to recreate. This is where her brand draws us in, it only captures the best of her brand image that we all want to follow and ultimately recreate! 
As her primary means of social media, she captures 'moments we all share', engaging with her followers:
Facebook: Almost identically to Instagram, Kylie uses Facebook to create an image of that ideal world (often using the same content from Snapchat and Instagram showing). However, due to the nature of Facebook emphasising written content over imagery, in our opinion, it is nowhere near as successful as Instagram.
TV show: The Kylie brand would not be complete without Keeping up with the Kardashians. However, it feels too set up, making her appear a little less attainable as it all seems a little bit too excessive (and to be honest a little annoying).  The lack of relatability, unfortunately for her, contradicts her brand message likely driving away potential fans.
Blog/App: People who have already dedicated themselves to the Kylie brand are ones that are willing forego the costs and invest $2.99 per month for her content. For us, we don't see the allure, it is too much of KYLIE. It is a money grab. While it previously was a boost the brand message since it has come to light that she doesn't even write it herself it has damaged her brand – you can feel her trying far too hard to market herself towards us (Thus, breaking the cardinal rule of marketing).
Twitter: With over 15 million followers it's understandable that she doesn't try to connect with you on a personal level by continuously replying. This platform still establishes the #goals image while maintaining that she is still attainable as she retweets fan meet ups and musings, however, it cannot be said that it is the greatest reflection of her brand – rather a support in the whole structure.
Youtube: As much as we wish she did, Kylie doesn't accrue her fan base via Youtube videos. If we are being entirely honest, with the irregular posts on her channel it feels a bit like an afterthought, intended to direct fans to her other social media platforms.
While we can criticise which social media platforms which have fallen flat in terms of telling her brand message, it is undeniable that through Facebook, Instagram and Snapchat Kylie has excelled in telling her brand message.  I mean she got lip injections that caused a ripple effect of millions to copy her (often to the point of self-harm) and in light of this scandal, we all still love her. Why? She is real, she has real insecurities that we can all relate to and she offers us a way of fixing them.
What underlies her successful channels, is a sense of personable, real-life, relatable, realistic – by documenting real life events through the type of content she produces revolving around selfies that emphasise her beauty, looks, makeup and clothing as well as her relationships with boyfriends, friends and family Kylie's brand image is enforced, creating resonance with her followers through the relatability.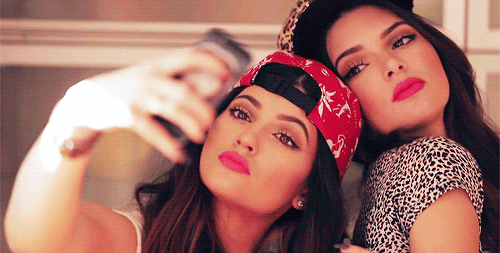 Unlike other designer brands such as Chanel and Louis Vuitton, despite her obvious wealth and privilege by being a relatable figure she creates an image of being seemingly attainable high-class brand. This is why her brand (and subsequent cosmetic and clothing lines) have been so incredibly successful. Her Instagram, Snapchat and Facebook pages (with some support from her other platforms) work in cohesion together to promote her personal brand and have an underlying theme that she is a peer amongst her followers – an average teenage girl.